Partner Account Manager Norway Cisco Systems
Søknadsfrist :
09.08.2018
What You'll Do
The Partner Account Manager in Cisco is the key contact for our customers and partners. You will own and nurture the relationships, building and executing the sales strategy.
Imagine participating major transformational projects in industries from manufacturing to retail to government. Imagine helping countries transform the citizen experiences, banks reinvent the customer experience, energy providers become more efficient. You can do it today with us.
Your success will reflect in sales achievements, long-term customer relationships and satisfaction.
You will lead and own partner related activities for Norway and you will managing the strategic development of our Channel Partners in alignment with the Global Cisco Partner Strategy
In this job you will:
•Responsible for a number of Selected Partner
•Manage and develop all your Partners in alignment with Sales, owns Portfolio and Customer Segment strategy. Be the face towards all of our partners
•Assess capabilities and ensure that all certification criteria's are met
•Set growth targets, establish support structure and review and control achievement
•Develop existing partners to ensure highest customer satisfaction
•Represent Cisco and Cisco´s Partner strategy at key events/conferences and in the press and establish Cisco as the Vendor #1
•Encourages Co-Marketing Activities and targeted PMF/VW spending in alignment with Marketing team, with a special focus on our commercial business
•Ensures integrated communications about all relevant topics to our channel landscape while leveraging new media platforms
•Manage interactions with all functions, including interface to EMEAR and WW functions
•Provides cross functional thought leadership related to Partner Strategy
•Own and manage weekly booking process activities with partners in close alignment with Cisco sales operations and Norwegian operation lead
•Ensures Operational readiness, compensation, business metrics definition
•Ensuring 100% compliance with internal rules and local laws
At Cisco you will be the first to benefit from what our technology can offer. Our approach is to enable you to be flexible in how you arrange your work, making sure you give and take the best.
Who You'll Work With
We are Cisco Sales. We sell solutions and products that make our customers successful.
Our focus is to find and solve their most critical problems and help them harness new market opportunities.
We anticipate our customers' needs, as the world shifts in an unprecedented transformation and technology impacts everything.
You will join a team of highly skilled Sales professionals working with Pre-Sales and Technology specialists.
Join the Partner Account Manager team in Israel, and make amazing things happen.
Who You Are
•You will bring several years of industry experience, alternative experience in a partner focused Organizations
•Strong team player and Leadership skills, ability to lead and motivate distributed teams also in a matrix organization
•Strong communicator and presenter, ability to speak to bigger groups.
•Strong operational skills, ability to execute agreed programs
•Good financial background especially on system integrator models
•MBA/Master degree preferred
•Write and speak Norwegian AND English fluently
Desired Skills
•Mastery in developing trusted customer relationships up to C level.
•Ability to match customer needs with state of the art technology solutions and partners to deliver them.
•Negotiation skills to craft solutions that are beneficial to our customers, partners and Cisco overall.
•Confidence in applying business and financial expertise to identify and qualify opportunities.
•Excellent written and verbal communication.
•Ability to leverage and engage internal resources such as Marketing, Technology Experts, Services and others.
Les mer om stillingen, fakta og søknadsprosess
Fakta om stillingen og søknadsprosess
Relaterte studier og skoler for denne stillingen
Se også alle studier innen:
Søknadsinformasjon
Se stillingsteksten ovenfor for informasjon om hvordan du søker på stillingen. Om du ikke skulle finne denne informasjonen der, besøk firmaets hjemmeside.
Søknadsfrist :
09.08.2018
Lagre stillingen eller abonner på tilsvarende muligheter
Lagre stillingen
Du kan lagre denne stillingen i en personlig liste
Notater
Du kan legge til et personlig notat (kun synlig for deg)
Abonner på tilsvarende stillinger
Vi sender deg stillinger som dette automatisk (basert på Yrke(r), Fagområde og Sted i annonsen.
Abonner på stillinger fra Cisco Systems
Tags
Rekrutteringskalender
2 STILLINGER UTLØPER I DAG (SISTE SØKNADSFRIST)
2 STILLINGER UTLØPER I DAG (SISTE SØKNADSFRIST)
Internship / Praktikanter
Antall interns: 14 (flere)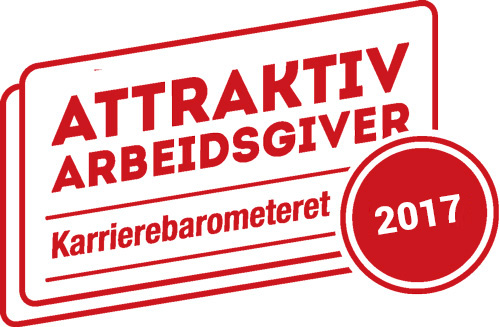 Filmer
Møt Elmedin, produktspesialist innenfor datacenter og finn ut hvordan han har det på jobben!
Møt Silje, systemingeniør i Cisco Norge og finn ut hvordan det er å jobbe i Cisco Norge!
Møt Emil, konsulent i Cisco Services og finn ut hvordan det er å jobbe i Cisco Norge!
Bli med Kathrine på en omvisning i Norges kuleste IT-selskap, Cisco!
New Frontiers: The Network. Intuitive. What Does it Mean?
In the beginning, we saw a glimpse of the future. That future has arrived. We're connecting the physical world to the Internet. Now, everyday objects become intelligent on the Internet of Everything.
TechZone Norway is an internal Cisco conference. For engineers by engineers. The key idea is to mix tech talks, activities and mingling so that engineers can get to know others across disciplines and teams. TechZone is about nurturing the collective brain represented by our super smart world-class engineers.
Welcome to Cisco Experience Center Oslo. Here we have captured some of the things you can expect to see when you visit us.
Se hvordan biolog Trude Myhre og hennes team i Verdens Naturfond (WWF) bruker Cisco Spark for å beskytte og bevare Norges urskoger. For mer informasjon om Cisco Spark og Cisco Spark Board gå til: http://cs.co/618584x2z
Se Peter Dinklage forklare nærmere hva "The Network Intuitive" betyr for verden, nettverket, samfunnet vårt og deg.
See why Cisco Norway is really a great place to work!
Hør mer om Traineeprogrammet til Cisco. Silje og Morten forteller.
Hvert år arrangerer våre fantastiske ingeniører i utviklingsavdelingen "Christmas Demo Day". I løpet av denne dagen vises forskjellige demonstrasjoner og produkter for alle ansatte her på Lysaker. Og vi etterpå koser vi oss med julemusikk, julelunsj og julelotteri til inntekt for Barnekreftforeningen.
Fakta om Cisco Systems
Bransjen(e) til Cisco Systems

Fagområder Cisco Systems ansetter til

Steder hvor Cisco Systems har avdelinger

Yrker Cisco Systems ansetter til