Associate Solutions Engineer (Graduate) Norway 2019 Cisco Systems
Søknadsfrist :
Behandles fortløpende
Program start date: 29th July 2019
Training hub during 1st Year:
Amsterdam, Netherlands
Location after the training:
Oslo, Norway
What You'll Do:
You'll be part of our Cisco Sales Associates Program (CSAP), an award-winning graduate training program for young talent aspiring to move into sales or engineering roles. For the first months of the program you'll learn about the latest technology advancements and how to position Cisco's architectures, solutions and products to our customers. During the second part of your CSAP year, you'll move into an engineering role as part of your on-the-job-experience within the Global Virtual Engineering (GVE) Team. You will be actively involved in sales opportunities and assigned to specific projects that align to your skill set.
The program, while challenging, will push you to become the best version of yourself. You'll be encouraged to pursue industry-standard certifications and be assessed and coached through customer simulations and on-the-job activities. We'll offer you a safe and fun environment to practice what you've learnt, all the while providing you with feedback to develop your potential. Thanks to this rigourous training plan, we've earned a strong reputation within our internal sales organization.
GVE is a multilevel technical presales organization, that provides software and systems engineering services to customers, partners, and internal Cisco sales employees. Upon graduating from the program, you'll be a Virtual Systems Engineer (VSE) where you'll ultimately accelerate your career into a Systems Engineer role and beyond. As a VSE you'll engage with our customers and partners as a trusted technology advisor. You'll work with Account Managers and together you'll position the benefits of our Cisco solutions to your customer, using our market-leading collaboration tools.
Who You'll Work With:
You'll train alongside incredibly talented individuals, like yourself, from different countries and diverse backgrounds. Early on, you'll make long-lasting friendships and belong to a rich human network that will support you through out your career. As a successful Associate Solutions Engineer (ASE), you'll expand your software and networking knowledge to collaborate with Cisco sales professionals and provide technical solutions for our customers and partners. You'll learn from top experts and coaches in a unique classroom setting where we use our own 'state-of-the-art' collaboration technology. You'll have your own mentor, a CSAP alumnus who's been in your shoes and will guide you in your first year. With a strong Cisco team committed to your success, you'll gain hands-on education and experience, while receiving an attractive salary and pursuing your career aspirations.
Who You Are:
Technology enthusiast, who enjoys talking about innovation and always keeps up with the latest technology news.
A strong communicator with the confidence to engage and talk to a wide range of people.
View team collaboration as instrumental to achieving success.
Enjoy looking at practical real life challenges and thinking creatively to solve them.
Approach situations with an open and curious mind, taking on challenges with an eye for opportunity.
What You Need To Be Eligible:
Graduate by the start date of the program,

29th of July 2019.
Graduate from a relevant technical degree such as; Computer Science, Computer Engineering, Software Engineering, Electronics Engineering, Telecommunications Engineering, Cyber Security, Information Technology, Mathematics, Physics, Informatics, Data Science or similar.
Fluent in

English and Norwegian
Hold the right to live and work in Norway, without future company sponsorship required. Student visas and temporary permits obtained on your own will not be acceptable.
Willing to relocate for 12 months of training to Amsterdam. Relocation package to trainings hubs will be provided as required.
Willing to return to your country you applied for, unless otherwise required due to business needs.
Knowledge and experience in software languages. C, C++, C#, Java or Python are desired.
Les mer om stillingen, fakta og søknadsprosess
Fakta om stillingen og søknadsprosess
Relaterte studier og skoler for denne stillingen
Se også alle studier innen:
Søknadsinformasjon
Se stillingsteksten ovenfor for informasjon om hvordan du søker på stillingen. Om du ikke skulle finne denne informasjonen der, besøk firmaets hjemmeside.
Søknadsfrist :
Behandles fortløpende
Lagre stillingen eller abonner på tilsvarende muligheter
Lagre stillingen
Du kan lagre denne stillingen i en personlig liste
Notater
Du kan legge til et personlig notat (kun synlig for deg)
Abonner på tilsvarende stillinger
Vi sender deg stillinger som dette automatisk (basert på Yrke(r), Fagområde og Sted i annonsen.
Abonner på stillinger fra Cisco Systems
Tags
11 ledige stillinger
Søknadsfrist: Fortløpende

Søknadsfrist: Fortløpende

Søknadsfrist: Fortløpende

Søknadsfrist: Fortløpende

Søknadsfrist: Fortløpende

Søknadsfrist: Fortløpende

Søknadsfrist: Fortløpende

Søknadsfrist: Fortløpende
Internship / Praktikanter
Antall interns: 14 (flere)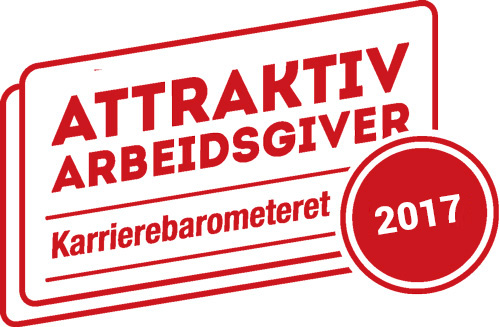 Filmer
Møt Elmedin, produktspesialist innenfor datacenter og finn ut hvordan han har det på jobben!
Møt Silje, systemingeniør i Cisco Norge og finn ut hvordan det er å jobbe i Cisco Norge!
Møt Emil, konsulent i Cisco Services og finn ut hvordan det er å jobbe i Cisco Norge!
Bli med Kathrine på en omvisning i Norges kuleste IT-selskap, Cisco!
New Frontiers: The Network. Intuitive. What Does it Mean?
In the beginning, we saw a glimpse of the future. That future has arrived. We're connecting the physical world to the Internet. Now, everyday objects become intelligent on the Internet of Everything.
TechZone Norway is an internal Cisco conference. For engineers by engineers. The key idea is to mix tech talks, activities and mingling so that engineers can get to know others across disciplines and teams. TechZone is about nurturing the collective brain represented by our super smart world-class engineers.
Welcome to Cisco Experience Center Oslo. Here we have captured some of the things you can expect to see when you visit us.
Se hvordan biolog Trude Myhre og hennes team i Verdens Naturfond (WWF) bruker Cisco Spark for å beskytte og bevare Norges urskoger. For mer informasjon om Cisco Spark og Cisco Spark Board gå til: http://cs.co/618584x2z
Se Peter Dinklage forklare nærmere hva "The Network Intuitive" betyr for verden, nettverket, samfunnet vårt og deg.
See why Cisco Norway is really a great place to work!
Hør mer om Traineeprogrammet til Cisco. Silje og Morten forteller.
Hvert år arrangerer våre fantastiske ingeniører i utviklingsavdelingen "Christmas Demo Day". I løpet av denne dagen vises forskjellige demonstrasjoner og produkter for alle ansatte her på Lysaker. Og vi etterpå koser vi oss med julemusikk, julelunsj og julelotteri til inntekt for Barnekreftforeningen.
Fakta om Cisco Systems
Bransjen(e) til Cisco Systems

Fagområder Cisco Systems ansetter til

Steder hvor Cisco Systems har avdelinger

Yrker Cisco Systems ansetter til