Sales Specialist - Bachelor/Master (Intern) - Norway Cisco Systems
Søknadsfrist :
Behandles fortløpende
Start Date: June 2019
Application deadline: 10th of February 2019
Location:
Amsterdam for the summer!
Why You'll Love Cisco
Everything is converging on the Internet, making networked connections more relevant than ever before in our lives. Our employees' revolutionary ideas impact everything imaginable - from entertainment, retail, healthcare, and education, to public and private sectors, smart cities, smart cars, and everyday devices in our homes. Here, that means you'll take creative ideas from the drawing board to powerful solutions that have real world impact. You'll interface with Cisco leaders, partner with experienced mentors, and develop incredible relationships with colleagues who share your interest in connecting the unconnected. You'll be part a team that cares about its customers, enjoys having fun, and you'll take part in changing the lives of those in our local communities. Come prepared to be inspired.
Team description:
At Cisco our team is dedicated to attracting, developing and retaining top university talent to shape our future and we want you! Opportunity to learn, gain sales experience and grow within Cisco. The purpose of this program is to expose students to Cisco's technology and customers while providing hands-on training and group project experience. Become Cisco's next generation of sales leaders through an accelerated early in career development path. Join us and explore how Cisco changes the way the world works, lives, plays, and learns.
What You'll Do:
The Worldwide Sales internship program is specifically designed for university students and offers the opportunity to learn and gain sales and consulting experience within Cisco. Students will be exposed to Cisco's technology and customers while gaining hands-on training and group project experience. Upon completion of the internship, opportunities exist to become Cisco's next generation of sales leaders through an accelerated early in career development path.
Your responsibilities may include:
Gather data on the IT industry and our top competitors from open sources of intelligence. The intern will be expected to explore non-traditional sources of information utilizing various tools
Analysis of customer and business insights, market intelligence function, and support of transformational projects and strategic initiatives which may encompass elements of go-to-market strategy, competitive strategy, and operational improvement projects
Utilize MS Office to create reports that will impact the business
Shadow and learn from field account teams
What you need to be eligible:
Currently in penultimate year studies pursuing a bachelor's or Master's degree in Business, Sales, Marketing, Communications, Data Science, Information Technology, Computer Science, Finance, or a related area
Strong academic background with excellent written and verbal communication skills
Strong teamwork, communication, influencing, organization skills, self-motivated, enthusiastic and positive attitude
Adaptability, flexibility, and ability to work in collaborative environment
Ability to manage multiple projects simultaneously, leadership and interpersonal skills, creative thinking and problem solving
Must be willing to relocate to the location of the internship program for the duration of the ten-week program
Fluent in English (written and verbal), as well as Norwegian
Must be able to legally live and work in the country for which you're applying, without visa support or sponsorship. (Student visas or visas obtained on your own are not applicable for the program.)
About Cisco:
The Internet of Everything is a phenomenon driving new opportunities for Cisco and it's transforming our customers' businesses worldwide. We are pioneers and have been since the early days of connectivity. Today, we are building teams that are expanding our technology solutions in the mobile, cloud, security, IT, and big data spaces, including software and consulting services. As Cisco delivers the network that powers the Internet, we are connecting the unconnected. Imagine creating unprecedented disruption. Collaborate with like-minded innovators in a fun and flexible culture that has earned Cisco global recognition as a Great Place To Work. With roughly 10 billion connected things in the world now and over 50 billion estimated in the future, your career has exponential possibilities at Cisco.
Are you ready to change the World?
Make your mark on the businesses of the future and apply now.
Visit and join the Cisco Sales Associates Program page https://www.facebook.com/CSAPINFO
Cisco are always looking to identify talented people. If you are reading this posting then we may not have an open job right now, however it is highly likely we will in the future. If you are interested in working for Cisco in this capacity then please submit your details and CV or resume against this requisition so that when a suitable vacancy arises a Cisco representative can contact you directly.
#LI-URML1
Les mer om stillingen, fakta og søknadsprosess
Fakta om stillingen og søknadsprosess
Relaterte studier og skoler for denne stillingen
Se også alle studier innen:
Søknadsinformasjon
Se stillingsteksten ovenfor for informasjon om hvordan du søker på stillingen. Om du ikke skulle finne denne informasjonen der, besøk firmaets hjemmeside.
Søknadsfrist :
Behandles fortløpende
Lagre stillingen eller abonner på tilsvarende muligheter
Lagre stillingen
Du kan lagre denne stillingen i en personlig liste
Notater
Du kan legge til et personlig notat (kun synlig for deg)
Abonner på tilsvarende stillinger
Vi sender deg stillinger som dette automatisk (basert på Yrke(r), Fagområde og Sted i annonsen.
Abonner på stillinger fra Cisco Systems
Tags
24 ledige stillinger
Søknadsfrist: Fortløpende

Søknadsfrist: Fortløpende

Søknadsfrist: Fortløpende

Søknadsfrist: Fortløpende

Søknadsfrist: Fortløpende

Søknadsfrist: Fortløpende

Søknadsfrist: Fortløpende

Søknadsfrist: Fortløpende
Internship / Praktikanter
Antall interns: 14 (flere)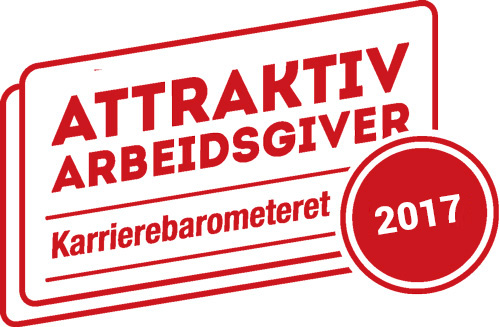 Filmer
Snorre forteller om Cisco og hva vi jobber med.
Møt Elmedin, produktspesialist innenfor datacenter og finn ut hvordan han har det på jobben!
Møt Silje, systemingeniør i Cisco Norge og finn ut hvordan det er å jobbe i Cisco Norge!
Møt Emil, konsulent i Cisco Services og finn ut hvordan det er å jobbe i Cisco Norge!
Bli med Kathrine på en omvisning i Norges kuleste IT-selskap, Cisco!
New Frontiers: The Network. Intuitive. What Does it Mean?
In the beginning, we saw a glimpse of the future. That future has arrived. We're connecting the physical world to the Internet. Now, everyday objects become intelligent on the Internet of Everything.
TechZone Norway is an internal Cisco conference. For engineers by engineers. The key idea is to mix tech talks, activities and mingling so that engineers can get to know others across disciplines and teams. TechZone is about nurturing the collective brain represented by our super smart world-class engineers.
Welcome to Cisco Experience Center Oslo. Here we have captured some of the things you can expect to see when you visit us.
Se hvordan biolog Trude Myhre og hennes team i Verdens Naturfond (WWF) bruker Cisco Spark for å beskytte og bevare Norges urskoger. For mer informasjon om Cisco Spark og Cisco Spark Board gå til: http://cs.co/618584x2z
Se Peter Dinklage forklare nærmere hva "The Network Intuitive" betyr for verden, nettverket, samfunnet vårt og deg.
See why Cisco Norway is really a great place to work!
Hør mer om Traineeprogrammet til Cisco. Silje og Morten forteller.
Hvert år arrangerer våre fantastiske ingeniører i utviklingsavdelingen "Christmas Demo Day". I løpet av denne dagen vises forskjellige demonstrasjoner og produkter for alle ansatte her på Lysaker. Og vi etterpå koser vi oss med julemusikk, julelunsj og julelotteri til inntekt for Barnekreftforeningen.
Fakta om Cisco Systems
Bransjen(e) til Cisco Systems

Fagområder Cisco Systems ansetter til

Steder hvor Cisco Systems har avdelinger

Yrker Cisco Systems ansetter til