Søknadsfrist :
Behandles fortløpende
LOCATION:Lysaker, Akershus, Norway
ADDITIONAL LOCATION(S)Stavanger, Bergen, Trondheim
AREA OF INTERESTSales - Product
JOB TYPEProfessional
TECHNOLOGY INTERESTAI or Artificial Intelligence, Big Data, Analytics, Cloud and Data Center, Collaboration, Video, Internet of Everything, Networking, Security, Service Provider, Software Development, Testing
JOB ID1253105
What You'll Do
The pre-sale engineer is a customer-focused technical sales professional who provides technical information and relation with his customers.The SE has direct technical accountability for specific opportunities, leveraging knowledge across the broad Cisco portfolio, including software and services. Strong knowledge of Cisco portfolio and record of success in a pressured environment.In this job you will:
Senior customer-focused technical and architectural sales professional.
Provides an operational relationship with the customer and collaborates with account team and Business Entities to develop customer focused architectures.
Demonstrate operational knowledge of an industry leading company.
Has strong understanding of the industry trends in the customer's vertical
Acts as a trusted advisor in the account and works with the account team to demonstrate the business value of Cisco solutions, architectures, and services by aligning opportunities with a 1-3 year cross-architectural vision.
Serves as the lead advocate for customers / partners within Cisco
Handle post-sales escalation and resolve issues, by coordinating and working with all internal and external stakeholders.
At Cisco you will be the first to benefit from what our technology can offer. Our approach is to enable you to be flexible in how you arrange your work, making sure you give and take the best.
Who You'll Work With
Cisco Pre-sales delivers the message about the vital role the network plays to our customers and partners.New demands on the network are calling for new solutions: SDN, DC automation, more importantly, secure networks that can sense and enforce security threats.We help customers understand how to use the state of the art networks. And make it possible for them to achieve their business goals in ways they would never have imagined.The network touches everything: come and define it with us.
Who You Are
5 plus years or equivalent experience in markets where Cisco competes.
Minimum 5 years field technical sales experience, working as a Systems Engineer or related field experience with customer interaction or technical customer facing experience.
You have BS or MS degree in computer science, computer engineering or related discipline.
Preferably have CCNA, CCNP or CCIE certifications.
Excellent written and verbal communication skills.
Fluency in Norwegian and English
Skills
You will have thorough knowledge of Cisco architectures and component parts. With that knowledge, you will be able to lead and define the solutions for your customers, including good analytic and decision-making skills.
Thorough understanding and deep dive into some or all of the following technologies: Switching, Routing, Wireless LAN, network orchestration, Data Center, Collaboration, Video, Internet of Things and Security.
Knowledge of Cisco products and Cisco certifications are preferred.
Adept at using initiative, discretion and judgment to apply technical solutions to complex sales opportunities.
Adept at customer interactions from the CIO through to technical staff.
Knowledge of sales cycle.
Great relationship building skills, tenacity, resilience.
Ability to work independently and remotely as well as with your team to accomplish objectives.
Good understanding of the market space and offerings.
Understand the operational side of running an infrastructure.
Why Cisco
At Cisco, each person brings their unique talents to work as a team and make a difference. Yes, our technology changes the way the world works, lives, plays and learns, but our edge comes from our people.• We connect everything – people, process, data and things – and we use those connections to change our world for the better.• We innovate everywhere - From launching a new era of networking that adapts, learns and protects, to building Cisco Services that accelerate businesses and business results. Our technology powers entertainment, retail, healthcare, education and more – from Smart Cities to your everyday devices.• We benefit everyone - We do all of this while striving for a culture that empowers every person to be the difference, at work and in our communities. Colorful hair? Don't care. Tattoos? Show off your ink. Like polka dots? That's cool. Pop culture geek? Many of us are. Be you, with us! #WeAreCisco#LI - PRIORITY *LI-EMEA-CG1
Les mer om stillingen, fakta og søknadsprosess
Fakta om stillingen og søknadsprosess
Relaterte studier og skoler for denne stillingen
Se også alle studier innen:
Søknadsinformasjon
Se stillingsteksten ovenfor for informasjon om hvordan du søker på stillingen. Om du ikke skulle finne denne informasjonen der, besøk firmaets hjemmeside.
Søknadsfrist :
Behandles fortløpende
Lagre stillingen eller abonner på tilsvarende muligheter
Lagre stillingen
Du kan lagre denne stillingen i en personlig liste
Notater
Du kan legge til et personlig notat (kun synlig for deg)
Abonner på tilsvarende stillinger
Vi sender deg stillinger som dette automatisk (basert på Yrke(r), Fagområde og Sted i annonsen.
Abonner på stillinger fra Cisco Systems
Tags
Rekrutteringskalender
3 STILLINGER UTLØPER I DAG (SISTE SØKNADSFRIST)
21 ledige stillinger
Søknadsfrist: Fortløpende

Søknadsfrist: Fortløpende

Søknadsfrist: Fortløpende

Søknadsfrist: Fortløpende

Søknadsfrist: Fortløpende
Internship / Praktikanter
Antall interns: 14 (flere)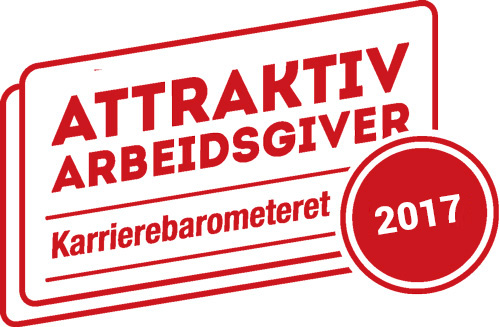 Filmer
Snorre forteller om Cisco og hva vi jobber med.
Møt Elmedin, produktspesialist innenfor datacenter og finn ut hvordan han har det på jobben!
Møt Silje, systemingeniør i Cisco Norge og finn ut hvordan det er å jobbe i Cisco Norge!
Møt Emil, konsulent i Cisco Services og finn ut hvordan det er å jobbe i Cisco Norge!
Bli med Kathrine på en omvisning i Norges kuleste IT-selskap, Cisco!
New Frontiers: The Network. Intuitive. What Does it Mean?
In the beginning, we saw a glimpse of the future. That future has arrived. We're connecting the physical world to the Internet. Now, everyday objects become intelligent on the Internet of Everything.
TechZone Norway is an internal Cisco conference. For engineers by engineers. The key idea is to mix tech talks, activities and mingling so that engineers can get to know others across disciplines and teams. TechZone is about nurturing the collective brain represented by our super smart world-class engineers.
Welcome to Cisco Experience Center Oslo. Here we have captured some of the things you can expect to see when you visit us.
Se hvordan biolog Trude Myhre og hennes team i Verdens Naturfond (WWF) bruker Cisco Spark for å beskytte og bevare Norges urskoger. For mer informasjon om Cisco Spark og Cisco Spark Board gå til: http://cs.co/618584x2z
Se Peter Dinklage forklare nærmere hva "The Network Intuitive" betyr for verden, nettverket, samfunnet vårt og deg.
See why Cisco Norway is really a great place to work!
Hør mer om Traineeprogrammet til Cisco. Silje og Morten forteller.
Hvert år arrangerer våre fantastiske ingeniører i utviklingsavdelingen "Christmas Demo Day". I løpet av denne dagen vises forskjellige demonstrasjoner og produkter for alle ansatte her på Lysaker. Og vi etterpå koser vi oss med julemusikk, julelunsj og julelotteri til inntekt for Barnekreftforeningen.
Fakta om Cisco Systems
Bransjen(e) til Cisco Systems

Fagområder Cisco Systems ansetter til

Steder hvor Cisco Systems har avdelinger

Yrker Cisco Systems ansetter til