AppDynamics Sales Engineer, Norway Cisco Systems
Why you'll love AppDynamics:
AppDynamics is an application performance monitoring solution that uses machine learning and artificial intelligence (AI) to provide real-time visibility and insight into IT environments. With our unique AIOps solution, you can take the right action at exactly the right time with automated anomaly detection, rapid root-cause analysis, and a unified view of your entire application ecosystem, including private and public clouds. Using AppDynamics, you'll finally align IT, DevOps, and the business around the information that helps you protect your bottom line and deliver flawless customer experiences at scale. We make the digital world work. Our vision is to empower people and machines to continuously advance business performance to benefit everyone.
As a Sales Engineer at AppDynamics, you will be responsible for providing pre-sales technical support to the Enterprise sales team.
Present and demonstrate AppDynamics solutions to potential new customers.

Deliver Proofs of Value to showcase the power of AppDynamics.

Responsible for delivering enablement sessions to educate our customers on APM and AppDynamics.

Become their AppDynamics trusted-advisor and build long term relationships.
You will have the opportunity to work directly with our Product Management, Engineering, Customer Success, and Marketing teams to share your knowledge and experiences to ultimately improve our business and our customers' success.
To be a successful Sales Engineer at AppDynamics, you need to have experience in a sales engineer or customer-facing role and be passionate about technical sales and working with customers. Ideally, you are high-reaching and self-motivated, and have experience with application performance management technologies and techniques and Cloud and Big- Data technologies. Other qualifications we are looking for include:
3-5 years' experience working with at least one of the following languages: Java, .NET, PHP, JavaScript

Experience and competence working at OS command lines including Unix, Linux and Window command prompts.

Experience with Unix/Linux/Windows shell scripting

Knowledge of basic networking components and concepts. Ability to solve problems of basic networking issues that may prevent communication between hosts

Experience with web servers and common relational databases used in today's application architectures. Ability to understand SQL.

Excellent communication and presentation skills

Passionate about technical sales and working with customers

Forward-thinking and self-motivated with a high emotional IQ

Ability to work on multiple opportunities & POCs concurrently

Highly coachable with a strong desire to improve and grow as a professional
Desired Experience and Skills:
Experience with application performance management technologies and techniques

Experience with Cloud and Big-Data technologies

Experience with common .NET web application architecture frameworks, distribution mechanisms and messaging components such as ASP.NET, ASMX, WCF, MSMQ, etc.

Experience with common Java web application architecture frameworks, distribution mechanisms and messaging components such as servlets, struts, Spring, EJB, web services, RMI, JMS, MQ-Series, etc.
We know that the award-winning culture at AppDynamics is something to brag about, but here are more reasons that make you excited to get out of bed to come in the morning, like:
Competitive compensation for your work.

Generous time off policy with, paid sick days and an extra day off as our gift to your birthday. We also offer up to 4 weeks of emergency situation time off, should such unfortunate and unexpected situation occur.

Support for your volunteering activities by giving you additional paid time off.

Opportunity to broaden your horizons by attending popular conferences.

Team outing events.
The world is changing. Today, people and devices are more connected than ever before, raising the bar for performance and the customer experience alike. At AppDynamics, we're unified in our mission to empower the enterprise with an AI-powered application performance monitoring solution that provides visibility and insight into the IT environment, as well as unified monitoring down to the network, so you can make mission critical and strategic decisions that drive business forward in real-time. When AppDynamics was acquired by Cisco for $3.7B it was the day before we were planning on going public. This strategic acquisition was 2.4 times more than we were planning to exit at, which highlights how much Cisco values the AppD business. So, why did they invest so much in us? As part of Cisco, AppDynamics will serve a critical role in helping drive Cisco's continued transformation into a software company. Being a part of the Cisco family allows us to benefit everyone - We do all of this while striving for a culture that empowers every person to be the difference, at work and in our communities.
AppDynamics as a part of Cisco is an equal opportunity employer.
Les mer om stillingen, fakta og søknadsprosess
Fakta om stillingen og søknadsprosess
Cisco vil ha deg med på å videreutvikle neste generasjons internett!
Cisco ble etablert i 1984, året etter internett slik vi kjenner det i dag ble etablert.
Nesten all trafikk på internett går i dag via routere og switcher fra Cisco. Vi er på mange måter limet som kobler mennesker nærmere hverandre, alt ved bruk av teknologi. Application networking, video, mobility, datacenter, security og Unified communications er bare noe av det Cisco driver med. Vi er overalt. I Kampala til Bangalore. Vi er der mennesker trenger å kommunisere.
Vi som jobber i Cisco kommer fra ulike bakgrunner, har forskjellige utdannelser og erfaringer med fellesnevneren at vi alle har en lidenskap for teknologi og setter våre kunder i sentrum.
Ved å sette fokus på inkludering og mangfold skaper vi en unik arbeidsplass som gir ansatte muligheter til å bli bedre kjent med andre kulturer, skikker og generelt få en bedre forståelse av verden rundt oss og internasjonale forhold.
Vår visjon er å forandre verden og hvordan vi arbeider, lever, leker and lærer. Enkelt og greit.
Les mer om
Cisco Systems
Stillingsbeskrivelse
Relaterte studier og skoler for denne stillingen
Se også alle studier innen:
Søknadsinformasjon
Se stillingsteksten ovenfor for informasjon om hvordan du søker på stillingen. Om du ikke skulle finne denne informasjonen der, besøk firmaets hjemmeside.
Lagre stillingen eller abonner på tilsvarende muligheter
Lagre stillingen
Du kan lagre denne stillingen i en personlig liste.
Notater
Du kan legge til et personlig notat (kun synlig for deg)
Abonner på tilsvarende stillinger
Vi sender deg stillinger som dette automatisk (basert på Yrke(r), Fagområde og Sted i annonsen)
Abonner på stillinger fra Cisco Systems
Tags
Internship / Praktikanter
Antall internships: 14 (flere)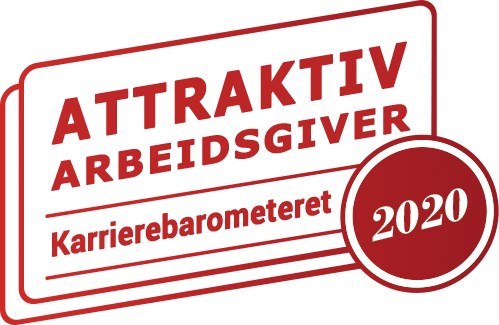 Fakta om Cisco Systems
Bransjen(e) til Cisco Systems

Fagområder Cisco Systems ansetter til

Steder hvor Cisco Systems har avdelinger

Yrker Cisco Systems ansetter til