Viktig melding: Denne stillingen har utløpt / er ikke aktiv
Senior Service Manager for VDC Tools Service NCC
Viktig melding: Denne stillingen har utløpt / er ikke aktiv
We are building for the future – can you help us realize our IT roadmap?
We are looking for an energic Service Manager for VDC Tools Service to join to our Nordic Service manager team. Your responsibilities would be to coordinate support for our construction business with CAD and BIM modelling applications.
The construction industry is currently facing a development leap where the change agent is spelled digitalization. NCC is leading the way by developing our business and future proofing our IT platform.
Successful candidates would join the Group function Finance & IT which leads NCC's finances as well as strategy development and major change programs in the business. Within the Information & Technology part of the unit (IT), we are approximately 100 employees.
The role as Service Manager for VDC Tools Service
In this position you will have overall responsibility for the delivery of the services according to the defined service levels. This includes service availability and maintenance, process support, budgeting, tracking and follow-up of service level agreements related to the service, as well as ensuring compliance and IT security.
You will be one of two Service Managers for VDC Tools and you will work together in an agile team.
In this job you will oversee all services, products, and systems in scope of the responsibility, ensuring that business demands and agreed service levels are being met.
The job can be divided into four parts:
Lifecycle Management
Ensure that main service documentation is in place and up to date.
Regularly conduct life-cycle management for owned assets and CIs, including hardware, software, licenses, and warranties. Ensure that CI relationships are accurate on all levels in CMDB.
Continuously identify and explore opportunities for services/systems, - and business improvements incl. increase of automation capabilities.
Contribute to forecast, budgeting and financial follow up
Service Delivery & Operations
Ensure that all processes required to deliver the services (incidents, problems, service requests) are efficiently managed and that support procedures are followed and functioning according to defined processes and service level agreements.
Manage the dedicated VDC support service provided by external support team to ensure efficient everyday operations.
Manage the deployment of updates, releases, patches to the test and production environment through efficient change control handling (CAB etc.).
Constantly improve your products and services and provide feedback that help to improve our overall ways of working.
Service Development
Work closely with business stakeholders to capture requirements and translate them into IT demands with clear business cases showing the outlined value. 
Participate in service development projects/initiatives and ensure agreed service design, and development procedures and principles are followed.
Plan and oversee transition activities to ensure proper handover from development to production environment. 
Keep yourself updated with trends and insights about the service and products in scope of your responsibility.
Service consumer relationship
Build strong customer relationships by providing fast and efficient problem solving to everyday issues. 
Continuously interact with key stakeholders according to defined service governance structures and processes.
Lead operational service forum with super users and/or internal service/product consumers and share performance reporting.
Ensure that instructions and end-user guidelines (knowledge) is correctly created and in place, to improve self-service capabilities.
Management of Service Providers.
Define and manage requirements for external suppliers including follow up on supplier performance through regular monitoring of the fulfilment of service levels & license, - and support agreements.
Your profile   
We believe that you have an academic degree or similar in IT and have good knowledge of work processes in large companies. You have four to six years of experience from a similar position. You are fluent in English and in one of the Nordic languages, both verbally and written. Experience in ITIL and Agile processes are also an asset.
You have qualifications, or corresponding professional experience in IT, and in-depth knowledge / experience in IT service management processes (esp. Service Operation / Service Transition). As a person, you are structured, solution- and service-oriented and enjoy working independently as well as in teams. In addition, you have a good technical understanding and are happy to seek challenges. ITIL 3 or 4 Foundation Certification is meriting and so is experience and/or knowledge of CAD applications/Design tools and licenses (like Autodesk, Trimble, Flexlm or similar) used in the construction industry.
To be successful in this position you:
possess a curiosity in new technologies especially VDC and how that is used in the Construction business
are a great Team player
have great ability to coordinate all levels of stakeholders
have great ability to follow up and follow through to ensure results
have ability to work under pressure
have advanced level of self-organization and initiative
have good communication and relationship building skills.
Additional information 
This position can be located in any of our major cities in the Nordics, but you will be working closely with our stakeholders located at our office in Stockholm, Sweden. The position may require travelling 2-3 days a month within the Nordic countries, although we do apply a flexible way of working and strive to collaborate digitally as much as possible. In accordance with NCC:s safety culture we conduct background checks on final candidates.
Contact and application
Please register your application and CV in English below. Selection is ongoing, so please apply as soon as possible but no later than 2021-02-10. For further information on this position, please contact Lis Karlehem, IT Competence Manager, 070-627 65 80 or lis.karlehem@ncc.se or Karin Österman de Wall, HR Recruitment Specialist, karin.osterman.de.wall@ncc.se.
Welcome with your application!
Not of interest for you? - please feel free to recommend a friend.
About us
At NCC, you become part of an organization with good values, high environmental awareness and a strong will to succeed together.
Every day, our more than 15,500 employees make decisions that improve people's everyday lives, both today and tomorrow. Here you work in a strong community together with committed and professional colleagues who are driven to learn new things, achieve goals, share experiences and make a real difference together. We challenge ourselves to drive development and create sustainable solutions that move society forward with new knowledge.
As one of the Nordic region's leading construction and property development companies, we develop commercial properties, build schools, hospitals, homes, roads, bridges and other infrastructure that shapes our way of life, work and travel in society. Through our industrial operations, we offer products and services with a focus on stone materials and asphalt production, paving assignments.
We safeguard a sustainable working life with a strong focus on safety, personal development and a balance between work and leisure.
NCC must reflect our customers as well as society at large and is dependent on employees with different skills. We strive to employ people with different backgrounds and value the knowledge and experience it brings.
We kindly but firmly decline contact with recruiters and sellers of advertising or staffing solutions.
Les mer om stillingen, fakta og søknadsprosess
Fakta om stillingen og søknadsprosess
I NCC er vi dristige nok til å tro at vi kan forandre verden til det bedre! Hver dag utfordrer vi oss selv til å skape en bedre morgendag og bærekraftige løsninger i toppsjiktet. Vi skal drive utviklingen, lytte, dele idéer og samarbeide.
En jobb hos oss krever at du bidrar til smarte løsninger, har gode samarbeidsevner og kan håndtere en rekke ulike utfordringer. Vi liker å se våre medarbeidere vokse og vi tror at man gjør det best i et kompetent og støttende miljø. Om du vil være med å bygge en bedre og mer bærekraftig fremtid er du velkommen til oss!
NCCs visjon er å fornye bransjen og levere de beste bærekraftige løsningene.

NCC er ett av Nord-Europas ledende bygg- og eiendomsutviklingsselskaper, med en omsetning på 57 milliarder SEK og rundt 16.500 medarbeidere (i 2018).
NCC opererer i hele Norden. NCC i Norge består av forretningsområdene NCC Building, NCC Infrastructure, NCC Industry og NCC Property Development.
Fokus på innovasjon - I NCC er innovasjon nøkkelen til å kunne skape de beste bærekraftige løsningene.
NCC
Stillingsbeskrivelse
Relaterte studier og skoler for denne stillingen
Se også alle studier innen:
Søknadsinformasjon
Se stillingsteksten ovenfor for informasjon om hvordan du søker på stillingen. Om du ikke skulle finne denne informasjonen der, besøk firmaets hjemmeside.
Viktig melding: Denne stillingen har utløpt / er ikke aktiv
Lagre stillingen eller abonner på tilsvarende muligheter
Lagre stillingen
Du kan lagre denne stillingen i en personlig liste.
Notater
Du kan legge til et personlig notat (kun synlig for deg)
Abonner på tilsvarende stillinger
Vi sender deg stillinger som dette automatisk (basert på Yrke(r), Fagområde og Sted i annonsen)
Abonner på stillinger fra NCC
Tags
Rekrutteringskalender
1 STILLING UTLØPER I DAG (SISTE SØKNADSFRIST)
Internship / Praktikanter
Antall internships: 10 (flere)
Lærlinger
Antall lærlinger: 50 (flere)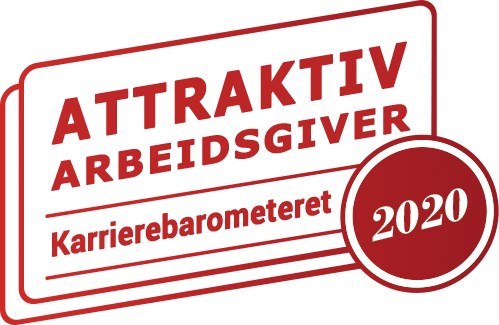 Fakta om NCC
Fagområder NCC ansetter til

Steder hvor NCC har avdelinger