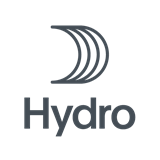 Hydro is a global aluminium company with production, sales and trading activities throughout the value chain, from bauxite, alumina and energy generation to the production of primary aluminium and rolled products as well as recycling. Based in Norway, the company has 13,000 employees involved in activities in more than 40 countries on all continents. Rooted in more than a century of experience in renewable energy production, technology development and progressive partnerships, Hydro is committed to strengthening the viability of the customers and communities we serve.
Les mer om Hydro

Ledige stillinger hos Hydro
Interessert i denne arbeidsgiveren?
Bildegalleri
Registrer deg i CV databasen og del din CV!
Opprett en brukerkonto, og del din CV og kandidatprofil slik at aktuelle arbeidsgivere får tilgang til deg dersom du matcher en nåværende eller fremtidig jobbmulighet.
Opprett en profesjonell kandidatprofil og CV på få minutter
Del profilen med aktuelle arbeidsgivere og rekrutterere
Bli oppdaget og kontaktet av arbeidsgivere og hodejegere
Videoer
Fremtiden trenger nye svar – på klimautfordringer, energitilgang og teknologi – og aluminium produsert av ren vannkraft er del av løsningen.
A new Norwegian star in the spotlight
Fakta om Hydro
Fagområder Hydro ansetter til

Steder hvor Hydro har avdelinger
Adresse
Drammensveien 260
0283 Oslo